Polar Bear tours in Churchill Manitoba are one of the most exciting experiences in the north.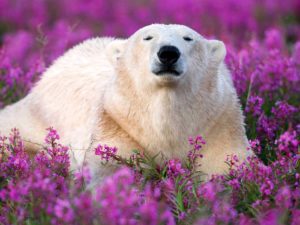 We offer polar bear tours from July through August to experience up close and personal these majestic creatures. Our guides will take you to a remote polar bear destination on the Hudson Bay where you can view polar bears in their natural habitat. Here you will be able to see polar bears swimming, walking through wild flowers and over rocks.You will be able to disembark the boat and walk with the polar bears.
Another option that we offer is a Tundra Tour in our Arctic Crawlers™ to view the beautiful landscape. Depending on the cloud cover you may be able to witness the northern lights at night.
Learn More About This Tour