Tales of a Winterman – February 22, 2021
I have a new friend in camp and a regular visitor to my cabin for morning breakfast. In the first photo, Foxy is watching Marty circle around at a distance. Sometimes the fox takes off in a sprint after the marten. There is a crow that stands a few meters away while the fox eats, even cawing a bit. The bird flies off as soon as I move in the window and can't get a photo.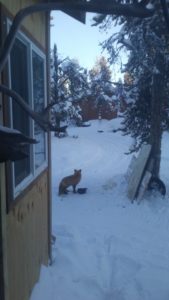 The wind blew in a warm wave overnight. The temperature climbing this morning and the snow melting off the branches spreading pine needles everywhere. The butter on the fridge is softer and I can go outside in my long johns. I'm getting a tease of spring coming and a break from extreme cold living. I can go for a longer walk today.