Canadian Northern Lights Trip
Canadian Northern Lights Trip Overview:
Unique World-Class Northern Lights Trip with Sub-Arctic Wilderness Adventures in a Quintessential Canadian Fly-in Experience.
This is truly the best place to see the Northern Lights in Canada, if not the world ! The North Seal Wilderness rests in the narrow range where the Aurora Borealis are at their peak KP index – This is the home of 5 Star Gangler's North Seal River Lodge on the North Seal Watershed.
The Best Northern Lights Experience Package in Canada
Gangler's enjoys several advantages over more well-known Aurora areas. Our area sits 200 miles inland from Hudson Bay, enjoying more consistent weather which results in more clear nights for seeing the Northern Lights. We also sit at the southernmost fringe of the Aurora Zone so our periods of evening darkness begin in early August, allowing spectacular Northern Lights viewing in very comfortable evening temperatures. (30ºF to 65ºF , -1ºC to 18ºC)).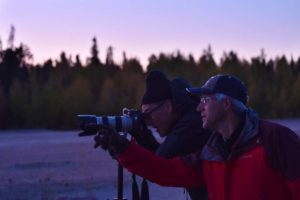 Our 2019 guests experienced 100% success seeing and photographing the spectacular Aurora Borealis – that is unheard of anywhere!
The Sub-Arctic is Remote, Wild and Pristine.
This is the Northern Lights trip you could only dream existed. Remote, wild, & pristine beauty – you have discovered one of the last remaining untouched areas in Northern Canada. Gangler's 5 Star North Seal Lodge sits in the heart of the remote Sub-Arctic, Northern Canadian wilderness, 200 miles from the closest road and 60 miles south of the treeline. This geographically unique area is dominated by rare sand eskers spread through 100 lakes and 12 river systems. Eskers are large raised sand formations formed by the glaciers 10,000 years ago and rising 400' above the landscape that extend as far north and south as 200 miles.
Eskers were used as key travel routes for both the annual caribou migration and the ancient peoples who hunted them for thousands of years for sustenance. You'll witness and experience the beauty and ruggedness of a land forgotten by time.
Days Filled with Adventures and Nights Filled with Awe!
Choose between a full range of personalized tours and activities, learning about the region's history, seeing and photographing amazing wildlife, flora and fauna, unique geologic formations, and of course the incredible Aurora Borealis.
A Best Kept Secret!
Experience why Lonely Planet heralded Northern Manitoba as the best kept secret for seeing the Aurora Borealis and so much more ! See the Auroras as they are meant to be seen, in the primal Sub-Arctic wilderness in a unique, personalized setting mere steps from Ganglers 5-Star lodge and beside a beautiful lake and roaring campfire. The unearthly quiet of the remote North, interrupted only by the howl of a wolf and the breathtaking Northern Lights will treat you to the Ultimate Northern Lights trip. Combined with the unique wilderness adventures of the sub-arctic, this is the Best Canadian Northern Lights Adventure ever !
Gangler's will personalize each individual trip:
Choose between a full range of personalized tours and activities. Ganglers will personalize each individual tour to ensure every moment fulfills your wildest dreams.
Learning about the region's history
Seeing and photographing amazing wildlife
Flora and fauna
Unique geologic formations
And of course the Aurora Borealis
Trip Activities Include:
World-class Northern Lights viewing
Unique esker rides on our Polaris Rangers
Unique guided erratics/geography tour
Floatplane trip over the Robertson esker
Interpretive walking tours on the pristine Central Esker
A journey to a crystal clear lake and massive wild game trails on the North Esker
Guided nature/medicinal and aboriginal history/botany tours
Guided wildlife tours for bear, moose, wolf and other animals
Guided wildlife photography tours
Guided birding tours
Guided tours of local First Nations historic sites
Professionally guided trophy fishing
Classic Canadian shore lunch
Fly fishing instruction and complementary use of lodge fishing gear – fly and spinning
Robertson esker exploration at Blackfish Lake
Fat-tire wilderness mountain biking
Kayaking, paddle boarding and canoeing
Evening presentations and lectures on history and wildlife of the Sub-Arctic
Extras
30 different fly-out lakes to explore, tour or to fish
Satellite phone use available for an extra charge
Guided rafting trip along the North Seal watershed and overnight camping
*Free Wi-fi
* Fly-out to Nunavut to see the caribou migration
Trip Amenities Include:
5-Star  Wilderness lodge
Private cabins for 2-4 guests with modern washrooms and housekeeping
Delicious creations from our chef, hors d'oeuvres (dietary restrictions can be accommodated)
High staff to guest ratio
Canadian Northern Lights Trip Details:
Included Amenities:
R/t air transportation from Winnipeg to NSR Lodge with expediting service
5-star lodge w/cabins for two, three or four, limited to only 22 guests per week
Classic Canadian lodge in the Sub-Arctic Boreal Transitional forest
Private cabins with housekeeping and all meals (Cabins have full amenities: sink, toilet, shower, heating, TV, tables/chairs, comfortable beds and screened porch)
6:45 am cabin coffee delivery
Free Internet service to lodge (wireless)
Delicious creations from our chef (dietary restrictions can be accommodated), hors d'oeuvres, guiding included
Full-service bar/lounge area, ping-pong & pool table
Satellite phone
Historical, Nature, and Botany tours
Special presentations on the area, history, and wildlife
Guides for all tours , exploration, and fishing
Incredible Canadian Shore Lunch
30 different fly-out lakes to fish, available for an extra fee
3 portage lakes included on 1 lake
Custom 18' and 16 1/2' boats outfitted with 40 to 25hp Merc. & Yamaha 4 stroke outboard motors
*Taxes not included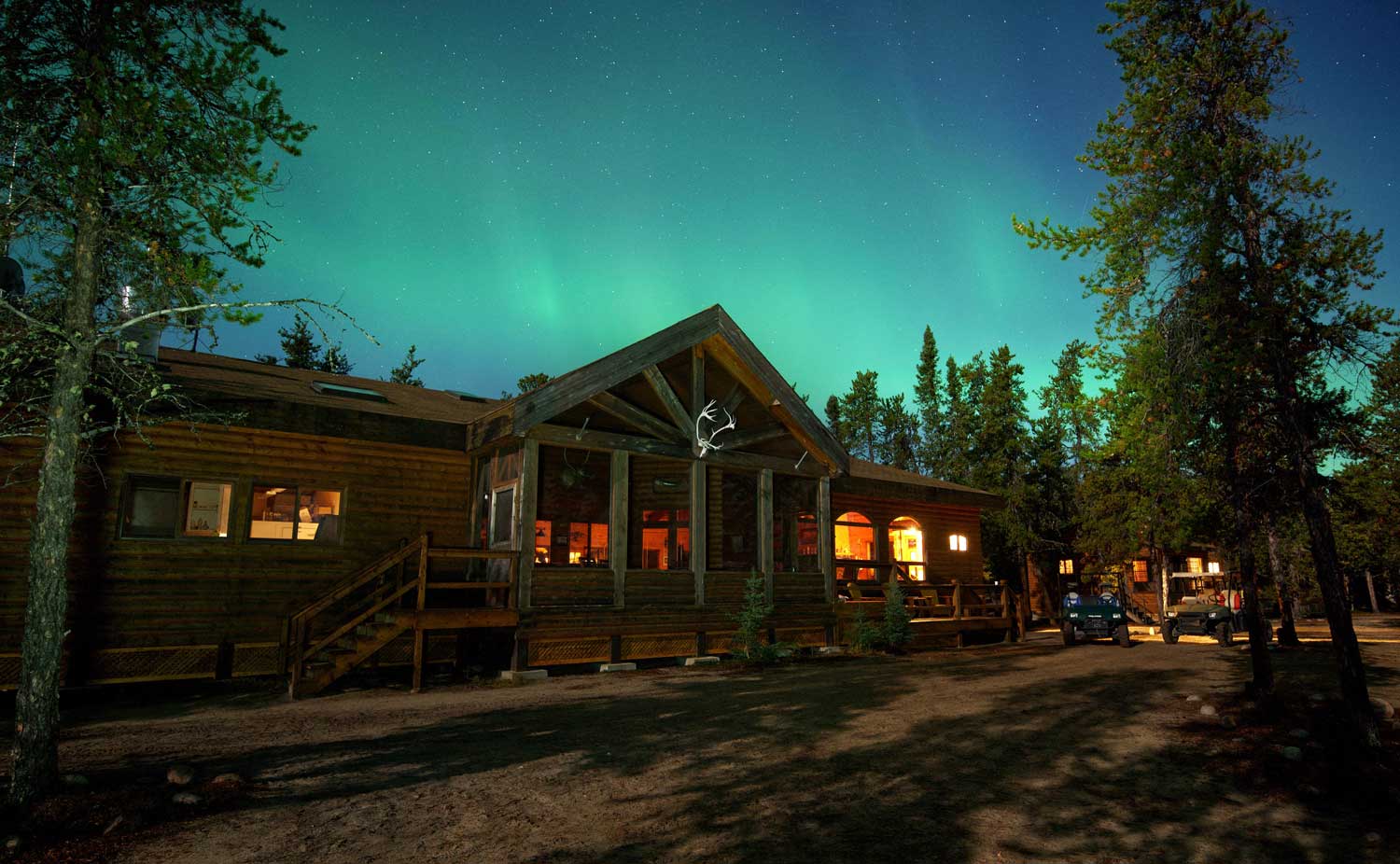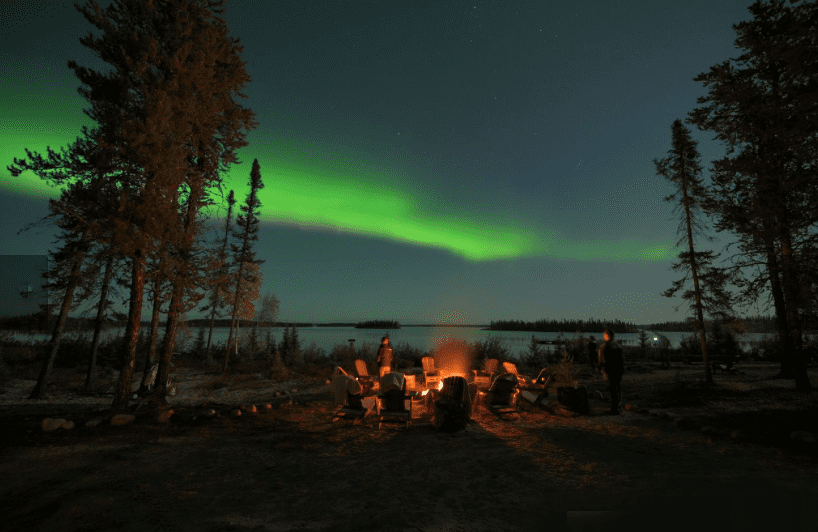 For pricing on this trip and others
Special 20% Off Northern Lights Trips
Unique Trip Options (Additional Fees):
Additional floatplane fly-out to a remote lake for fishing and/or exploration:
$500 per person
Day or overnight floatplane fly-out to the Barren Grounds at Courage Lake,
90 miles (145 km) north of NSR Lodge:
$600 per person
Day floatplane
fly-out to kayak, canoe, or raft the North Seal River:
$600 per person
August 6 – 14
August 14 – 22
Canadian Northern Lights Experience/Churchill Bears & Belugas trips