THE BEST PLACE TO SEE
THE NORTHERN LIGHTS
– AURORA BOREALIS
The most convenient, comfortable and best place to see spectacular Northern Lights in Canada is Gangler's North Seal River Lodge in Northern Manitoba, Canada.
The "Aurora Hot Zone"
Many people do not realize the magnificent and vibrant Aurora Borealis that dance across the Northern sky can be experienced between August thru October in Northern Manitoba. They burst forth with a beautiful and mesmerizing palette of electric green, often embellished by slivers of pink, yellow, magenta and orange. Simply breathtaking, an experience of a lifetime. You can travel to other areas of Canada, Iceland, Norway, or Sweden but to avoid cloudy weather, you may have to be visit during extreme cold temperature months, with night time temps often dropping to -20 C or lower. At Ganglers, this not an issue. The lodge sits inland, 180 miles west of Churchill, Manitoba and passing weather systems generally move out within a day or two ensuring Ganglers guests at least 1 to 2 nights of viewing, and sometimes more. In Northern Manitoba, Canada you can view the Northern Lights in comfort just foot steps from Gangler's 5 star Lodge in temperatures 35˚F – 65˚F (2˚C to 18˚C). Relax in a deck chair around a campfire, enjoying your favorite beverage and wait for the show to begin. Northern Manitoba is in the "Aurora Hot Zone" and Ganglers is the Best place to see the Northern Lights.
100% Success rate of our 2019 Northern Lights guests. Many viewed the Northern Lights on multiple nights.
BEST TIME OF YEAR:
August, September October
BEST VIEWING TIME:
10pm – 5am
AVERAGE NIGHTLY TEMPS:
30˚F to 65˚F
(-1˚C to 18˚C)
SUCCESS VIEWING RATE:
100%
Experience The Northern Lights in Comfort Just Steps From Our Lodge While Enjoying Excellent Service From Our Staff.
9 Reasons Why The Best Northern Lights Are Here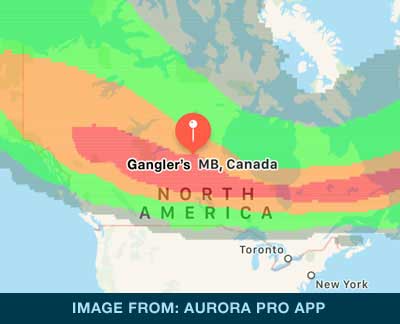 1. August 1st – Oct 15th is when Northern Manitoba is in the "Aurora Hot Zone" for Northern Lights activity. The KP ranges from 1-10 and KP forecasts of  2-5 can feature some of our strongest nights. (As ranked on Aurora Pro App).
2. Gangler's is located inland from any sea body. Weather patterns generally move out quickly, ensuring clear weather for visibility and viewing during your visit.
3. Peak viewing period is August thru early October, ensuring comfortable temperatures (35°-65°F, 2°-18°C) when viewing.
4. The North Seal eskers offer a stunning elevated 360° view of the Auroras as they zoom and form across the Northern Manitoba sky.
5. A TOTALLY remote destination, 230 miles from the closest city. This is TRUE darkness, enabling the Northern Lights to be seen at their utmost clarity. The only noise you may hear is the cry of the loon or howl of a wolf.
6. Northern Lights can be enjoyed at our lodge with a warm, personalized setting that is limited to only 20 guests per week. Our staff ratio is over 1:1.
7. You don't have to sit and wait hours for the Northern Lights to start happening. Our guests can retire for the evening and when the lights start happening, we will wake them up to watch the amazing light show.

8. SO REMOTE YET SO EASY TO GET TO.
Fly-in only, located 640 miles North of Winnipeg, at the top of the Canadian Boreal forest and only 60 miles from the Nunavut border, no other Northern destination is as easy to travel to. Guests board our private charter in Winnipeg and land 2 1/2 hours later on our 5400′ private runway adjoining the lodge. Incredible!
9. An adventure to Gangler's Sub-Arctic is not just about the Northern Lights.  You'll spend your days enjoying nature tours and presentations on this unique area, scouting for wildlife, enjoying incredible photographic opportunities, visiting historic sites and even fishing if you prefer. As awesome as the Northern Lights are, you will enjoy them and so much more with an adventure to Gangler's Sub-Arctic.