THE BEST PLACE TO SEE
THE NORTHERN LIGHTS
– AURORA BOREALIS
The most convenient, comfortable and best place to see spectacular Northern Lights in Canada is Gangler's North Seal River Lodge in Northern Manitoba, Canada.
The "Aurora Hot Zone"
Many people do not realize the magnificent and vibrant Aurora Borealis that dance across the Northern sky can be experienced between August thru October in Northern Manitoba. They burst forth with a beautiful and mesmerizing palette of electric green, often embellished by slivers of pink, yellow, magenta and orange. Simply breathtaking, an experience of a lifetime. You can travel to other areas of Canada, Iceland, Norway, or Sweden but to avoid cloudy weather, you may have to be visit during extreme cold temperature months, with night time temps often dropping to -20 C or lower. At Ganglers, this not an issue. The lodge sits inland, 180 miles west of Churchill, Manitoba and passing weather systems generally move out within a day or two ensuring Ganglers guests at least 1 to 2 nights of viewing, and sometimes more. In Northern Manitoba, Canada you can view the Northern Lights in comfort just foot steps from Gangler's 5 star Lodge in temperatures 35˚F – 65˚F (2˚C to 18˚C). Relax in a deck chair around a campfire, enjoying your favorite beverage and wait for the show to begin. Northern Manitoba is in the "Aurora Hot Zone" and Ganglers is the Best place to see the Northern Lights.
100% Success rate of our 2019 Northern Lights guests. Many viewed the Northern Lights on multiple nights.
Special 20% Off Northern Lights Trips
BEST TIME OF YEAR:
August, September October
BEST VIEWING TIME:
10pm – 5am
AVERAGE NIGHTLY TEMPS:
30˚F to 65˚F
(-1˚C to 18˚C)
SUCCESS VIEWING RATE:
100%
Experience The Northern Lights in Comfort Just Steps From Our Lodge While Enjoying Excellent Service From Our Staff.
10 REASONS WHY THE BEST CANADIAN NORTHERN LIGHTS VACATION IS AT GANGLERS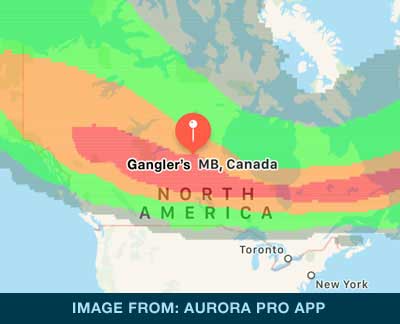 1. You are in the prime "Aurora Zone" The prime zone for top Aurora activity is not as large as many people think. Stretching around 300 miles from north to south, it is a narrow band where the highest activity takes place. Gangler's destinations sit in the southern part of this zone.
2. Our "Lights Season" is late summer/early Fall August, September and October have Northern Manitoba in the "Aurora Borealis Hot Zone" for Northern Lights activity. The KP index ranges from 1-10 and KP forecasts of 2-7 can feature some of our strongest nights. Our Auroras burst forth with a beautiful and mesmerizing palette of electric green, often embellished by slivers of pink, yellow, magenta and orange.
3. More stable weather patterns.
The lodge sits inland, 180 miles west of Churchill, Manitoba and the closest large water body, Hudson Bay. Large water bodies generally hold unfavorable weather systems during the warmer months of the year which is why many well-known areas host their trips during the coldest months. At the North Seal, weather systems generally move out within a day or two ensuring Gangler's guests at least one to two nights of great viewing, and sometimes even more.
4. Comfortable viewing temps.
Most people think they must brave bone-chilling temps of -20°F (-29°C) or colder to see the magnificent and vibrant Aurora Borealis. – not at Ganglers. Our spectacular Northern Lights trips begin early August and extend to mid-October. Residing on the southern edge of the prime Aurora Zone, our evening darkness starts much earlier in the season and during warmer, more comfortable temperatures.
Peak viewing is from August, September and October ensuring comfortable nighttime temperatures of 30˚F to 65˚F (-1˚C to 18˚C)
5. Unique, stunning and unobscured 360° views.
The crest of the towering North Seal sand esker behind the lodge offers guests a unique, stunning unobscured 360° view of the Aurora Borealis as they form and dance across the Northern Manitoba sky. It's truly a view unlike any other.
6. A true remote wilderness.
The North Seal River area is 230 miles from the closest town and road. This is TRUE darkness, enabling the Northern Lights to be seen at their utmost clarity. The only noise you may hear is the cry of the loon, the howl of a wolf, and the crackling of the Lights.
7. A warm, personalized setting.
Our lodge is designed as a warm, personalized setting that is limited to only 22 guests per week and customer service is our #1 goal. Our staff/guest ratio is over 1:1. Our other nearby destinations offer much of the same level of excellent service but in even smaller settings. You will relax and enjoy your private cabin with its comfortable amenities.

8. No long hours of waiting.
The Northern Lights can vary as to when they will become active. Retire for the evening knowing we will awaken you when the Lights commence. And please remember, you are only mere footsteps away from the Best Northern Lights in Canada!

9. Enjoy the Comfort.
You are in the prime of the Aurora Borealis Zone, and staying at an exclusive 5-star lodge. Relax inside the lodge by the fireplace or beside the campfire outside with your favorite beverage and our on-duty bar staff and await the magnificent show.
10. Wilderness adventures by day, spectacular Northern Lights in the evening.
An adventure to Gangler's Sub-Arctic is not just about the spectacular Northern Lights. During the daytime you will experience a world-class Sub-Arctic Safari or activities and learning. You can enjoy a plethora of nature tours, activities and presentations on and about this unique area, scouting for wildlife, enjoying incredible photographic opportunities, visiting historic First Nation's sites and even professionally guided fishing. As awesome as the Northern Lights are, there is so much more to do here with a personalized adventure at Gangler's Sub-Arctic.
What is the Aurora Borealis?
Photographing the Northern Lights
See Northern Lights Trip Details